Resurrection Fern and Whisk-Fern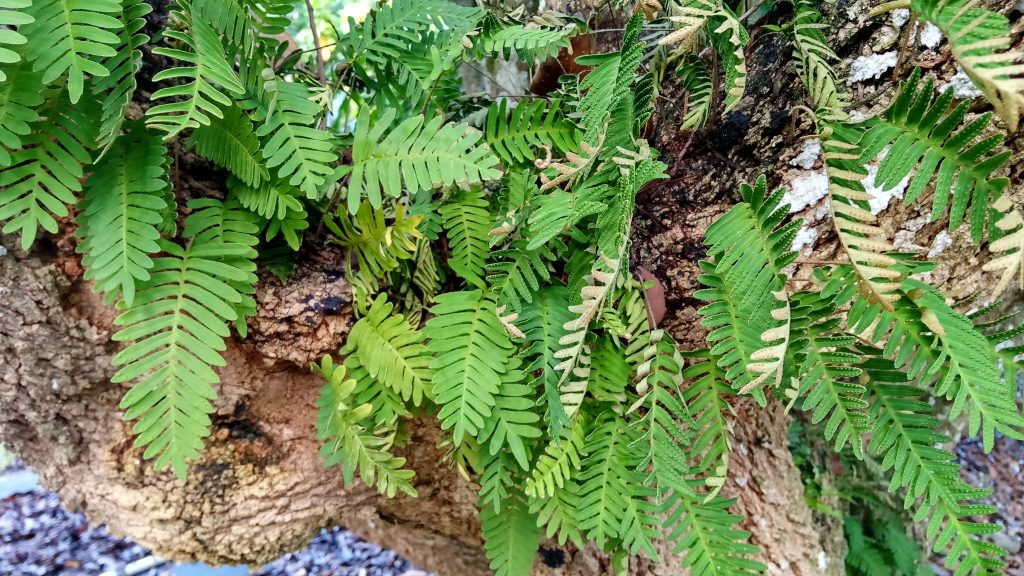 Two native plants to South Florida that probably are growing in your yard right now and you may not even know it, or you walk by them without taking a second glance. The first is the Resurrection Fern (Pleopeltis michauxiana). This amazing epiphytic fern shrivels up during dry periods losing 90% of its tissue moisture. Then after a rain comes to life within a few hours turning bright green as its fronds unfurl. This fern is quite common in South Florida growing on older trees such as Live Oaks, Avocados, and many other trees of South Florida. This fern ranges as far north as Delaware and Illinois and west to Texas and South to Florida in the US. It also can be found in Central and South America.
The second plant is the Whisk-Fern (Psilotum nudum). Although it is called a fern, it is not a true fern, but rather fernlike. It does produce spores like ferns; however, it produces a rhizome without roots. This plant grows epiphytically as well as a terrestrial throughout most of Florida, including South Florida and throughout most of the world. Whisk-Fern is a very ancient plant based on the fossil records and thought to have grown when the dinosaurs roamed the earth.
Richard Lyons Nursery has these two native plants growing all over the property.