Under The Jakfruit Tree
In 1832, famed avian artist John James Audubon (born Jean Rabin), was visiting a friend in Key West when he gazed into a neighbor's yard and saw a beautiful flowering tree, which we know as Cordia sebestena. So impressed was he by the tree that his later engraving of white-crowned pigeons shows the birds perched on a Cordia branch.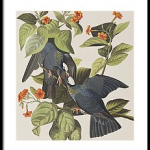 The neighbor of Audubon's host was Captain John H. Geiger, Key West's first harbor pilot and an avid plantsman. The Cordia in his yard was known locally as the Geiger Tree, and eventually several other species in the genus came to be accorded that common name. (In the late 1950s Captain Geiger's house was about to be torn down in favor of a gas station when the Mitchell Wolfson Family Foundation donated funds for its restoration, the first to be undertaken in Key West. Fittingly, in 1960 the property at 205 Whitehead St. was opened to the public as the Audubon House Museum & Tropical Gardens.)
The Orange Geiger Tree grows at a moderate rate to about 25 ft. in height. It produces large, dark green leaves with a sandpapery texture, and it bears clusters of 2-in. wide brilliant to dark orange funnel-shaped flowers for much of the year. There has been a long-simmering controversy over whether C. sebestena is a Florida native. The species occurs naturally over a large range from the Bahamas through the Caribbean and into northern South America. It seems likely that it was introduced into Key West from Cuba.
But, native or not, the Orange Geiger has proven perfectly amenable to the poor, highly-alkaline soils which are anathema to many other plant species. In addition, it is famously tolerant of drought and salt. For best flowering, it should be grown in full sun.
The White Geiger Tree, C. boissieri, is native from South Texas into Central Mexico. Known also as the Texas Wild Olive, the species matures to 16-23 ft. in height. Its funnel-shaped white flowers are somewhat smaller than those of C. sebestena and appear pretty much year-round. C. boissieri functions as a good subtroical approximation of the Flowering Dogwood. Leaves are silvery-green in color and possess a fuzzy texture. The White Geiger is highly drought-tolerant and can withstand temperatures at least down into the low 20s. Jellies can be made from the fruit of the tree, and its leaves are said to be used in folk remedies to treat pulmonary problems and rheumatism.
The Yellow Geiger Tree, C. lutea, occurs natively in Peru and Ecuador, including the Galápagos Islands. Like C. boissieri, it matures to a height somewhere above 20 ft. It produces bright yellow, funnel-shaped, mildly fragrant flowers throughout the year, but particularly in late spring to early summer. As with the other Cordia species featured here, the Yellow Geiger is quite tolerant of drought and poor soils. In southern Florida it performs well as both a container-grown or inground tree or shrub.
The Orange, White and Yellow Geigers are available at Richard Lyons' Nursery in various size containers.